Manchester City vs Tottenham Spurs
sam, 20 avr 2019

ou

dim, 21 avr 2019

, Etihad Stadium

.

S'il vous plaît n'oubliez pas que:
* La date et l'heure finale sont confirmées 5-10 jours avant la date du match. En cas de doute s'il vous plaît vérifiez sur le site du club.
* Vous n'aurez jamais de siège individuel. Vous obtiendrez toujours des sièges à côté de vos amis, juste en face ou derrière vos amis si vous réservez ensemble.
* Vous serez toujours assis parmi les supporteurs du domicile.S'il vous plaît, lire les Termes et conditions suivantes attentivement avant de remplir votre réservation.

Ci-dessous vous pouvez en savoir plus sur les sièges et les catégories que vous pouvez réserver pour votre match de football.

* Premium padded seats, long side / curve location

* Block 209/210 or similar

* Access to stadium lounge

* Cash bar and food outlets

* Match program

* No dress code


Your tickets will be delivered to your hotel in or around Manchester! Tickets for weekend fixtures will be delivered anytime after 6pm on Friday. Tickets for mid week fixtures will be delivered from midday on the day of the game.
Arène/Stade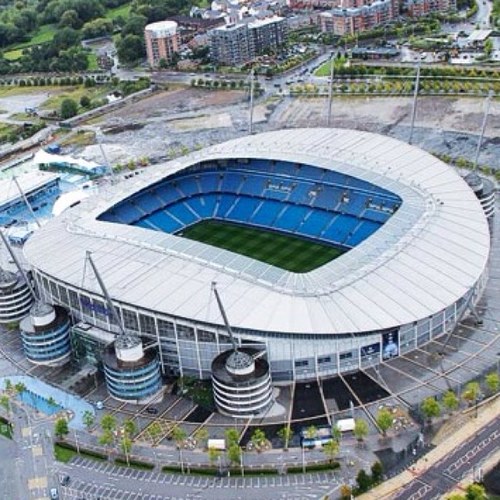 Etihad Stadium
Métro/Subway
Take the train to Manchester Piccadilly. 20-25 min. walk to the Stadium
La capacité du stade
48.500
Itinéraire
Etihad Stadium
Adresse
Manchester City Football Club, Etihad Stadium, Etihad Campus, Manchester M11 3FF